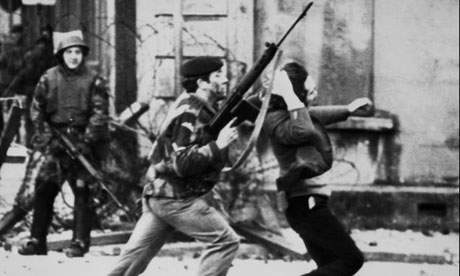 Yesterday was a deeply, searingly emotional event for the people directly involved in Bloody Sunday, the people of the city of Derry, the wider population of Northern Ireland, this country and the United Kingdom. It was an event of truly momentous importance, not just for what the Saville report states which is at the centre of it, but also for what it means at a very high level for the quality of democracy. We should not forget that for years on end many of us had bemoaned the fact that the British establishment was so protective and defensive, but given what it has now done, it behoves those of us who were so critical to acknowledge that Britain has found within itself the ability to acknowledge gross and grievous wrongdoing. That is what occurred yesterday. The statement of the British Prime Minister is extremely welcome in that context. I accept clichés are common in debates of this nature, but it genuinely is a milestone for democracy internationally because it shows that in a democracy there is and should always be available an independent judiciary and option to scrutinise, analyse and, if necessary, criticise the actions of the state.
One of the tests of a democracy is the availability of an independent facility in the system that can deliver this kind of report and analysis. It has taken many years to produce the report, about which many would be critical and sad. People will also be critical of the expense and very often the over-legalisation of the process. Despite the fact that we may be critical, including of tribunals in this country, of the time inquiries take and delays, we should never be tempted to throw out the really sacred, important democratic facility to call on an individual such as Lord Saville, an independent judge, to examine carefully, without fear or favour, the actions of the state and produce a report such as he has produced.
There are lessons for us to learn. Yesterday was about Derry and the events of Bloody Sunday which Senator Mark Dearey stated yesterday that he remembered. I am sure everybody in the Chamber remembers them. I remember being off school for the day of mourning. I regard the report as the bookend at the other end of the process that ensued. Yesterday was such an important day. There are lessons to be learned on the need for independent scrutiny. Let us not, when talking about the tribunals, be tempted to set aside this crucial facility in a democracy. Yesterday was genuinely a great day for democracy.