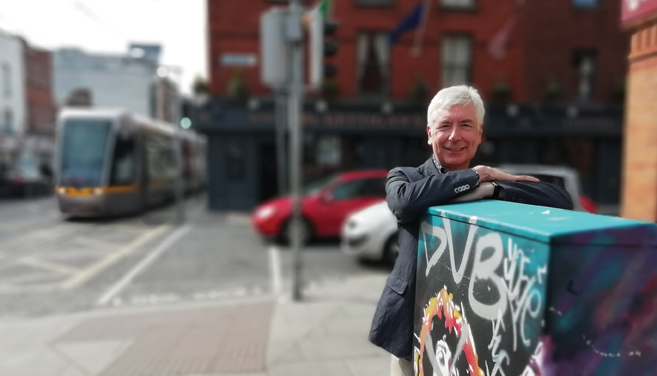 My Vision for Dublin
liveable city | fairer Europe | sustainable planet
Download here:
I was born and raised on Dublin's northside, and now live in Terenure with my own family. This city nurtured and educated me. It is my home.
We are a great city: diverse, open and tolerant. But there is also inequality, poor infrastructure and a lack of vision for the future. That needs to change.
Decisions taken in the European Parliament over the next five years will impact greatly on our city and on the people who make it their home.
This is a critical time for our city and for Europe as a whole.  I want to serve all the people of Dublin in the European Parliament upholding the values of respect, tolerance and equality.
I have a clear vision for Dublin – where everyone has a secure home, where we cherish our precious environment, and where citizens have a real say in how their city develops. Europe can help us realise this vision.
Action to combat climate change
Climate change is the single biggest issue facing humanity.  Young people in Dublin and across Europe are showing real leadership on this issue and are demonstrating extraordinary commitment to address the issue. All of us need to take the lead from them and work to support local initiatives that can have a real impact in our communities in terms of climate mitigation and improving quality of life:
Make public transport our single biggest investment priority; provide fully accessible networks for safe walking and cycling; and increase residential densities to build a sustainable future.
Incentivise retrofitting of homes and schools through EU-backed financing models, and support community-based renewable energy projects.
Build on the Single-use Plastics Directive, which will see items such as plastic cutlery, straws and cotton buds banned by 2021 through initiatives like a deposit scheme for plastic bottles.
Tackle inequalities
Our city still suffers from poverty and inequality.  My vision for Dublin is one where all Dubliners have the opportunity to thrive:
Leverage European Investment Bank funding to support Labour's plan to build a minimum of 80,000 housing units over a five-year period , with a priority for building on vacant sites and regenerating areas that have not had any positive developments in years.
Learn from best practice in other European cities to protect the rights of renters, and advance measures to develop land and prevent hoarding. For example, adopt Berlin's approach to restricting short-term and holiday lets .
Use EU social funds to break the cycle of poverty and inequality in our city.
Protect workers' rights and regulate the digital economy
New technology and business models threaten the hard-won rights of workers across Europe:
Ensure workers in the 'gig economy' and in precarious employment have full employment rights and protections. Enact the Labour Party's legislation to outlaw bogus self-employment.
Allow access to more flexible working hours, especially for those with young families and caring responsibilities.
Enhance protection of the personal data of all citizens in this new digital economy. Ensure employers cannot abuse the privacy of their workforce.
Ensure tech giants pay their fair share of taxation and clamp down on tax avoidance measures.
Promote creativity
Music, literature and creativity are central to Dublin's spirit and Dubliners sense of place.  Nurturing creative talent and ensuring access to the arts across the city are vital to our future:
Ensure that artists are fairly paid when distributing their work on tech streaming channels.
Use vacant commercial units and other buildings to promote the work of visual artists and craft workers across the city via support from the Creative Europe programme, mirroring the 'Meanwhile Spaces' initiative in other European cities.
Ensure the Erasmus+ programme provides apprentices and young workers with opportunities to travel and learn across Europe.
Elect a Mayor for the whole city and build real engagement
Dublin's future growth and development is an issue for all of us. We need a streamlined model of governance that can serve the entire metropolitan area:
Directly elect a Mayor of Dublin, with responsibility for the whole metropolitan area, as in other European cities of comparable size and complexity. This year Limerick, Cork and Waterford voters will decide on a directly elected Mayor.  In contrast, Dubliners have been ignored and denied a vote.
Develop Citizen Assemblies to input on vital issues such as how to future-proof our transportation network, how to create a sustainable local food system; how to have a vibrant and safe nightlife culture.
Ensure that as Dublin grows it retains its soul and its integrity as a positive, welcoming and diverse city – accessible to all.