25 days to go and … thank you Spain!
The Spanish election brings great news: the success of Labour's sister party, the PSOE. It's a boost for our movement across the EU in advance of the European Parliament elections. Social democracy is very much alive in Europe. Of course our politics needs to address new challenges. As I said at our lively and successful Labour launch yesterday, people face new insecurities all over the world. Insecurities about the future of work, about housing in our cities, and most of all, insecurity as a result of climate change. I honestly believe that it is only through social democracy – a renewed social democracy – that we can effectively address these problems. That's why it's so great to see the result in Spain. It bodes well for Labour and for the whole constructive left.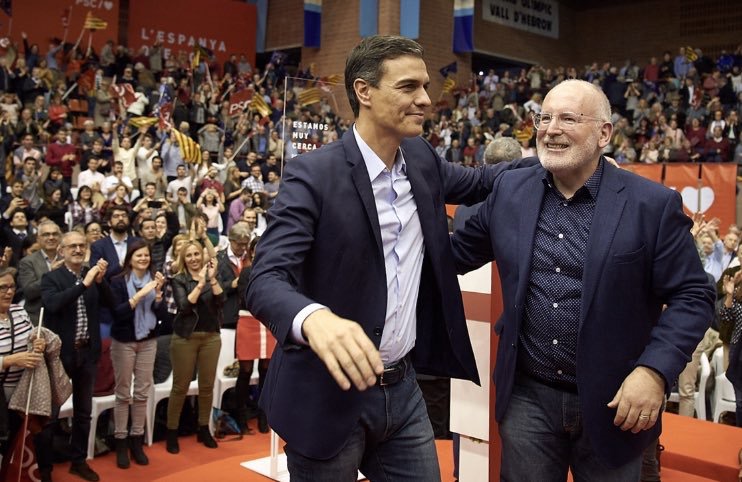 Pedro Sanchez and Frans Timmermans
First thing this morning I attended an interesting breakfast briefing on IBEC's European election manifesto (they have their "hustings on 13 May and I will be there). Mid-morning it was off to the Mansion House to take part in a really stimulating and informative candidate hustings organised by Inclusion Ireland. I gave my commitment to supporting their manifesto for people with intellectual disabilities. I will work hard in the European Parliament if I'm elected to help achieve their objectives – these include supports for community living, more action to eliminate discrimination, and strengthening accessibility measures.
We were competing with a street preacher at the top of Grafton St at lunchtime. He had the benefit of his PA system, but we managed to meet plenty of Dubliners and to hand out my well-received "Vision for Dublin". In fairness one of my fellow candidates complimented me on it this morning! Just finished a teatime canvass now with Michael O'Sullivan, our candidate for Ballyfermot-Drimnagh in the local elections. Everyone knew Michael. He is a true Labour man – decent, hard-working, completely embedded in his community. He will be a terrific councillor for this area.
Highlight of the day: the lady on Walkinstown Road who when told I was Labour replied "yiz are down long enough now, it's time ye were back".