Children being failed by our social service system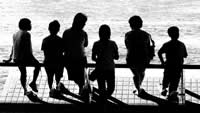 Last night's Prime Time Investigates programme on child protection services, showed the alarming extent to which children at risk of abuse or neglect are being failed by our social service system.
Perhaps the most shocking disclosure was that children regarded as Priority One cases – those most at risk of sexual or physical abuse – did not have a social worker allocated to them. We also saw where filing cabinets packed with documents relating to numerous cases, had not yet even been examined.
The programme drew attention to a particularly outrageous case where a foster parent reported evidence of sexual abuse of a child in her care, only for her warnings to be ignored. There seemed to be no action taken by the HSE and the suspected parents were allowed ongoing regular access to the child. It is quite clear that children in such cases are not being afforded the full protection to which they are entitled under the Children Act 2001.
It is little wonder that doctors and teachers who have to refer cases to social services have become so frustrated and disillusioned, when they discover that in all liklelihood, nothing will be done.
It was very disappointing to hear the response of new Minister of State Barry Andrews on Morning Ireland this morning. One might have expected that a new Minister would bring a new perspective and a new enthusiasm to the job. Instead what we got was a new voice, trotting out the same old excuses and offloading responsibility to the HSE. Where was Minister Andrews' anger? Where was his determination to get this problem sorted out?
The reality is that children are being placed at unacceptable risk and that unless our child protection services are properly resourced many will face continued abuse or even death.
Just last week the newly-elected Taoiseach Brian Cowen told the Dail that the particular responsibility of the Govt was to "represent the interests of our young". It's now time for him to act on that worthy sentiment by ensuring that the HSE recruitment embargo is lifted and that an emergency programme of recruitment of social workers gets under way immediately.
More :: You can watch the 'Prime Time Investigates' programme on Child Protection by clicking here