Dancing around the Maypole
The final weekend's campaigning has come to an end and we are into the final stretch now. A European election is not like any other campaign. There is no point in trying to cover the whole constituency through door-to-door canvassing, though I've done a lot with our local election candidates. For example this Sunday morning, I was out with Seana O'Rodaigh, our candidate in Skerries, and her enthusiastic team. Seana was sporting a lovely tan from the sunshine days spent canvassing earlier this week!
It was a busy weekend in the city. On Saturday there was the 'Raise the Roof' march (which I attended in support of my old union SIPTU), the Leinster v Munster Pro14 semi-final at the RDS (I was canvassing in Dundrum and Churchtown and sorry to miss), and many local events, fetes and festivals. We called in to the Rathfarnham Parish Fete at the High School on Saturday morning – for yet more tea and cakes and some exceptional book bargains.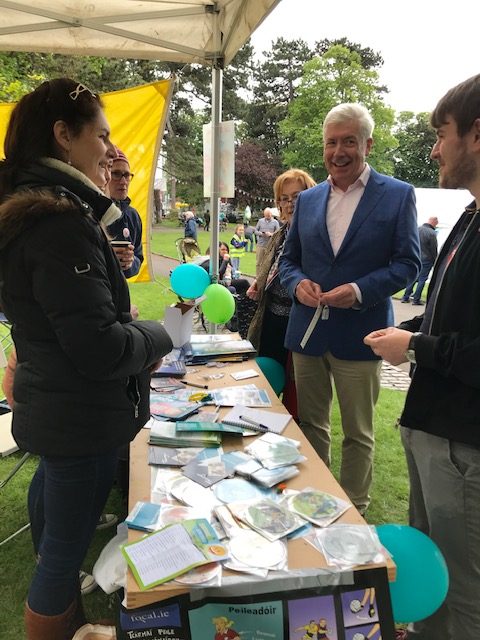 I gcomhra le Chormac O'Braonain i gCrois Araild inniu
Down the road the 10th annual Harold's Cross Community Festival finished up on Sunday afternoon with high-quality live entertainment. We bumped into Cllr. Mary Freehill along with her campaign manager, Cormac O'Braonain who very kindly introduced me – as Gaeilge – to the young women at the Irish language stall.  This exceptional festival is organised and managed entirely by local volunteers, including Tony McDermott a former colleague of mine on South Dublin County Council. Tony gave us a fascinating account of the background to the Maypole which was one of the featured attractions in Harold's Cross Park this afternoon.
Interesting fact: Apparently there were two maypoles in late eighteenth century Dublin, one sited at Finglas and the other at Harold's Cross.  Tony and colleagues borrowed the festival  maypole (made entirely from recycled materials) from contacts in Leitrim. Over in Finglas an inaugural Maypole Festival recently took place. Locals recycled and renovated an old mast sourced from a boat in Howth!