How to make it 'sexy'?
To sunny Leeson Street bridge before 8am to meet commuters.  I'm told by quite a few that they already have my 'Vision for Dublin.' Even though we need to reach new people all the time it is heartening to know that it registered.  I do wonder about the extent to which the European elections are featuring in peoples' minds with two weeks to go. Certainly Brexit creates a new and more urgent context. But persuading people that the European Parliament is critical to all our lives is very much a work in progress.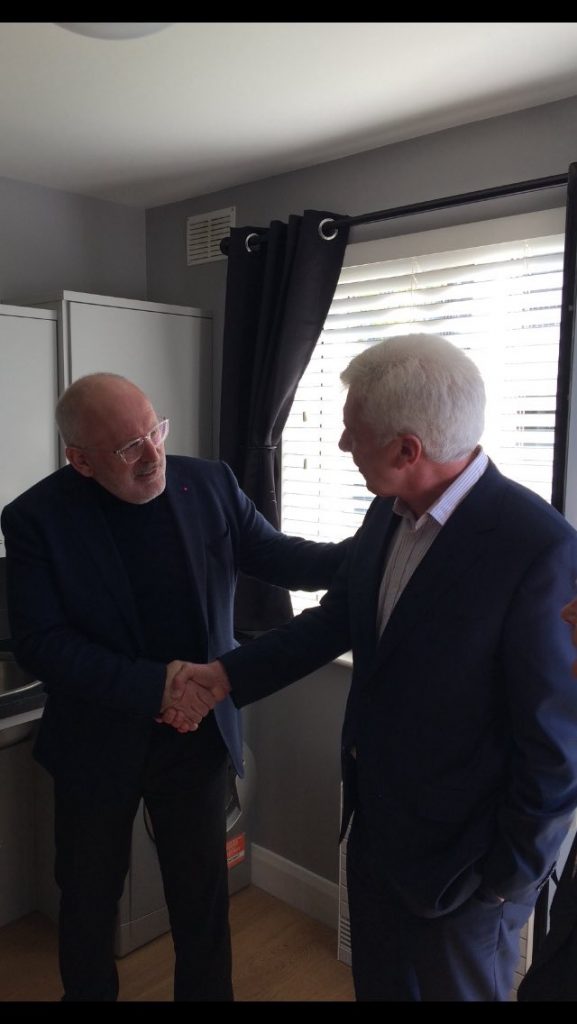 With Frans Timmermans in Donnybrook
At a mid-morning event in Donnybrook with Frans Timmermans (Commission Presidency candidate for the Party of European Socialists, Labour's group) a journalist asked me whether I thought Timmermans's presence in Dublin would have any impact. I recognise that it would not lead the evening news. However, I believe strongly that having him here is a powerful statement that Labour is not a sole player, but rather is part of the broad European movement of social democracy. Frans is an impressive campaigner and it was great to accompany him to the wonderful housing development at Beech Hill.
How to render the European Parliament more relevant was one of the questions the candidates were asked at an event organised later by the Association of European Journalists. Some of us were tempted to put the question back to the journalists themselves. But my answer was the same as it always is: the Parliament and the institutions will be noticed and supported by the citizens of the EU and its Member States when they are seen as relevant to their lives. That's why the next Parliament has to confront and solve the everyday pre-occupations of ordinary people: insecurities concerning the cost and availability of housing in our cities, the future of work in the digital age, climate change. I believe that social democracy is the only route to making Europe relevant again.
Spent the afternoon dodging hail showers (!) canvassing in Clondalkin with Robert Dowds and in Lucan with Joanna Tuffy and their respective teams.
Quote of the Day: Deaglan de Breadun's question at the AEJ – "have the panel any ideas on how to make the European Parliament sexy?"