James Connolly remembered
On this day in 1916 James Connolly was executed at Kilmainham Jail. Although our world is a very different one from his, Connolly remains an inspiration. My grandfather Martin White was a Clonmel man and a life-long trade unionist. He was a Labour supporter and a candidate for the party in the local elections in Dublin in 1955. I often wonder if he might have been present at the foundation meeting of the party in Clonmel in 1912. He and my Dad Bob White, a railwayman like his father, instilled in me a respect and admiration for Connolly and Larkin that has endured.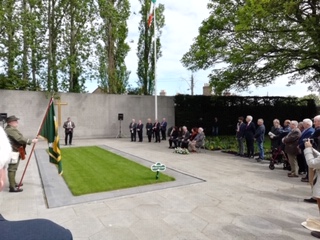 Today we commemorated James Connolly at Arbour Hill, where he is interred with the other leaders of the Rising. There were speeches by the Labour Party leader Brendan Howlin and the President of SIPTU Padraig Peyton, followed by a deeply moving reading by Maeve Connolly of her grandmother Nora Connolly O'Brien's account of her father's dying hours.  A rousing version of James Connolly by Gerry O'Reilly brought the formal proceedings to a close.
The commemoration is organised every year by the stalwart Joe Costello, who is busy campaigning to return to Dublin City Council. I'm looking forward to campaigning with Joe again for Labour in the week ahead.
Quote of the day: "We are not the country of Nigel Farage and Tommy Robinson" – Keir Starmer MP