Lovely hurling
Our last two general election campaigns were in freezing cold winter weather so it's a joy to be up and at it early on these lovely spring mornings. The city is always full of promise and expectation at 7.30am and so it was this morning in Dun Laoghaire. There are human surges just before each scheduled DART and the idea is to get a few seconds' face-time with as many people as possible and at least get the leaflet into their hand. A good number of people stop – especially those I know. I wouldn't describe the prevailing mood as cheerful at this hour, but there is a reassuring sense of respect and even admiration for the two candidates – me for Europe, and Valerie McDermott for the Council.
I spent most of today on the north-side. There was a lovely moment when I called to Kay Lyons and her sister Joan. Kay and another now-deceased sister Connie were famous All-Ireland camogie champions in the 1950s and 60s. As a young child, I lived next door to these great sporting pioneers until moving a short distance away in 1971. At that stage we had grown to a family of nine. Marino has always been strong GAA territory and of course remains so. The estate was one of the first public housing schemes built by the Free State. It's amazing to think that the Lyons family must have been among its very first residents in the late 1920s.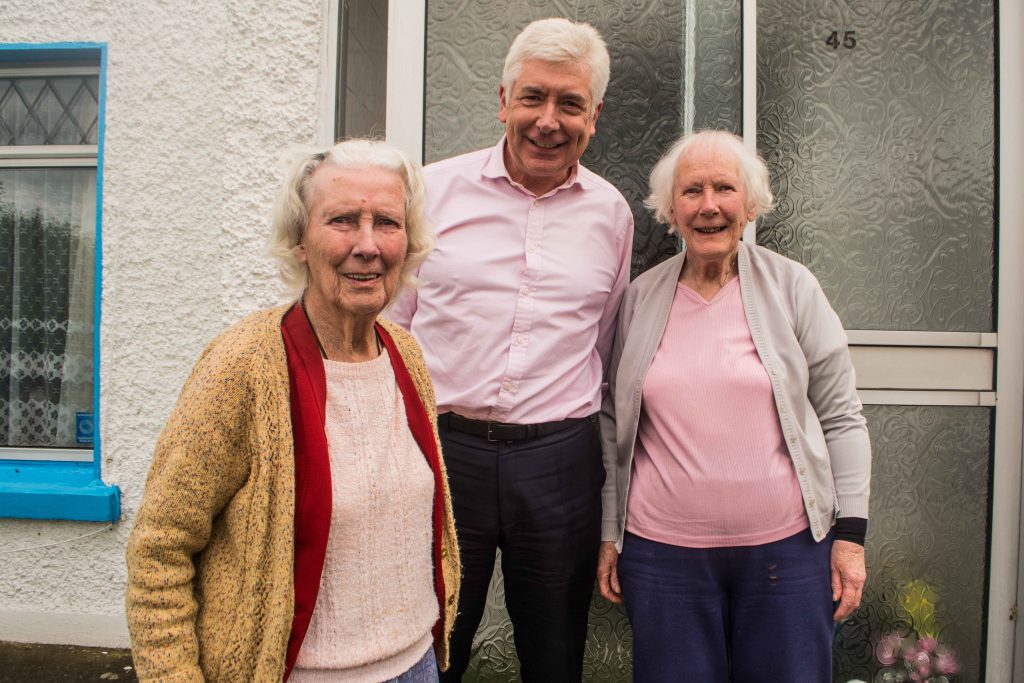 Sisters Joan and Kay Lyons, neighbours from my childhood in Marino
It was an honour to be invited to the launch this evening of 'Live While You Can' – Fr Tony Coote's memoir. Tony Coote was 53 when he was diagnosed a year ago with motor neurone disease. His fortitude, grace and humour spill off the pages of this inspiring work. The Church of St Thérèse in Mount Merrion (where Fr Coote is PP) was the somewhat unorthodox venue, but it was packed to the rafters.  It's hard to imagine another venue that could have accommodated the crowd of more than one thousand. The book sold out.
Quote/moment of the day: realising that I must have picked up some early lessons in ground hurling from the lovely ladies of Marino.